Using your mouse or trackpad is great but to improve your efficiency you can use basic Mac keyboard shortcuts
I'm certain you'd like to spend less time working and more time having fun, so let's leverage the power of these simple shortcuts!
First, here are the "modifier keys":
"Modifier keys" are the keys you use in combination with other keys to perform an action.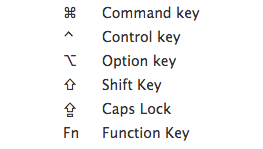 These symbols will help you recognize the keys you need to use when looking at the shortcuts under the Menu bar.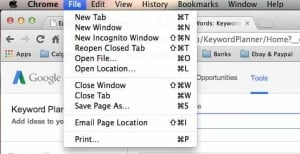 For example, opening a new tab on "Google Chrome" would require you to use Command and the letter "T" as per the screenshot.
Now that you're familiar with the "modifier keys", let's discover some of the best keyboard shortcuts.
Here's a list of the ones I reckon you could use daily:
TO CUT: Command-X (looks like a pair of scissors)
TO PRINT: Command….. guess? "P" of course!
TO OPEN A NEW WINDOW ON YOUR BROWSER/APPLICATION: Command-N
TO OPEN A NEW TAB ON YOUR BROWSER/APPLICATION: Command-T
TO QUIT AN APPLICATION (PROPERLY, NOT LIKE THE RED X ON A PC!): Command-Q
TO SELECT ALL (IN A LIST OF IMAGES, SONGS, FILES…): Command-A
TO SAVE (A DOCUMENT): Command-S
TO FIND A WORD (ON A WEB PAGE OR WORD/PAGES DOCUMENT): Command-F
TO REFRESH A WEB PAGE THAT IS STUCK (IT HAPPENS): Command-R
TO START TYPING IN THE ADDRESS BAR OF YOUR BROWSER (WITHOUT HAVING TO HIGHLIGHT EVERYTHING FIRST): Command-L
AND ONE OF MY FAVORITES, TO UNDO (THE "OOPS" BUTTON): Command-Z (to use without limitations, as many times as you wish in a row)
Here you go! These are in my opinion the must-haves. What other cool Mac keyboard shortcuts would you like to suggest? Or are you looking for a specific one?
Feel free to share in the comments below!
Share This Story, Help Your Friends And Family!