What if your event requires a custom repeat, like every first wednesday of the month?
You probably have used the repeat feature on the Calendar on Mac but have you noticed that you could customized it?
I just added an event that needs to repeat every first wednesday of the month and this feature helped me do just that!
How to customize your repeat event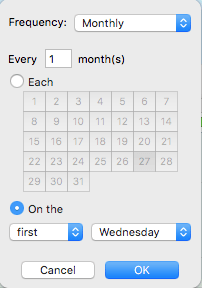 Simply double-click the event, click on the date and more menus will appear.
Click "Repeat" then choose "Custom".
On "Frequency", choose "Monthly" then select the option below "on the" and choose "first" then "wednesday".
That's it! Your event will now repeat every month, on the first wednesday of the month!
You can, of course, customize it your way but that was an example of how far you can tweak this custom repeat feature.
Have you used it? Ideas, suggestions? The comment below are all yours!
Share This Story, Help Your Friends And Family!