There are 2 ways to setup WordPress to create your new website.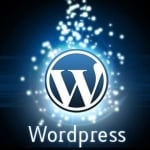 You've probably heard about both wordpress.com and wordpress.org but what are the differences and when should you choose one over the other?
wordpress.com:
This is the simple way to get started with WordPress.
You trust the WordPress guys to help you with hosting, domain name and everything else, right from their own platform.
Pros: 
You don't need to be a technical wizard
No need to learn code
The setup is easy
No maintenance on your part
Cons:
Limited options
You can't add any plugins you want to turn your website into something else
Limited analytics
You can't setup an online store
Limited SEO controls
Limited Theme Support
wordpress.org:
This is often dubbed the "real WordPress" as this is where you download all the files necessary for you or your webmaster to setup your professional website like a pro.
Pros:
There are no limits to what you can do with your website
You can install any plugins you want to enhance its functionalities
You can create a state-of-the-art ecommerce store
You have access to your website files and database to tweak anything
You're not bound to one hosting environment but can choose the best and most performant if need be
You can stup SEO like a pro to get best results
You can create a membership site
You can learn how to manage your own website content
and much more…
Cons:
You may need a professional WordPress Expert to help you create your website like a pro
There are regular expenses to maintain it (but if you're serious about getting into business, you should invest in yourself and your company)
You may need an expert to help you setup your domain name, hosting and email accounts
Conclusion:
WordPress.com is a great platform if you wish to create a very small and simple website for your own blog, to share your love for music, nature, your travels etc… but you will quickly be limited in what you can do with your website.
If you're an entrepreneur and are thinking of creating a professional website for your company, wordpress.org is your best option!
There is more to learn about these two versions of WordPress, if you're interested, check our next WordPress webinar and grab a copy of the "10 things you need to know before creating your WordPress website" ebook.
Questions? Let us know in the comments below.
Share This Story, Help Your Friends And Family!